Accessories & Sub-Floor Preparation
The proper and correct preparation of an existing sub-floor is paramount to ensuring the longevity and reliability of the finished works. JC Flooring's professional operatives are suitably trained, tested and accredited in accordance with trade regulations to avoid any unnecessary delays or costs to your project.
JC Flooring only supplies the finest materials from industry leading manufacturers. Our diverse supply of sub-floor materials ranges from self-leveling, fibrous and damp proof membrane latex to ensure the longevity of the floor coverings and our guarantee of the finished works.
JC Flooring also has extensive experience dealing with renovation projects, which tend to demand a more complex preparation. Our experienced operatives, alongside the finest materials and industry setting quality ensures our confidence in providing a professional, reliable and persistently excellent service, whether a new-build project or a complete renovation of an existing building.
There is little JC Flooring and it's operatives haven't experienced, however demanding your specification may be, JC Flooring is sure to be the commercial flooring experts for you.
Accessories & Sub-Floor Services
Latex & Levelling Systems
We offer all types of self-levelling systems from a 3mm coat of latex to smooth out any imperfections all the way to rebuilding floors up to the level necessary to install the new flooring, whatever the specification. We can also cover up, uplift, and dispose of any previous flooring where necessary. With materials applicable to cover any type of subfloor there will be nothing in the way of creating a wonderful finish to any area. We source our levelling products from companies such as Ardex, F.Ball, Levelit and many more!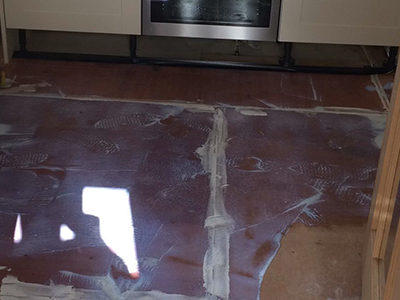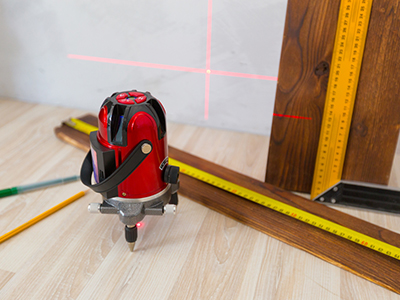 Surveys
Our qualified professionals can provide quality floor surveys prior to any installation or quotation. We can assess the subfloor and determine what necessary preparation will be required, depending on the type of flooring which has been selected. Another benefit of having our survey is that we also provide a free of charge service to measure any area which is required for flooring.
Moisture Testing
Moisture is not something that we get along with in the flooring trade, from causing wood to expand to creating stains on carpets. Consequent to the problems that can arouse when flooring and water meet, we do not hesitate to ensure that we have a dry subfloor before installing any type of flooring. Our team can provide moisture tests using our trusted moisture reader and determine whether it is acceptable to lay the flooring.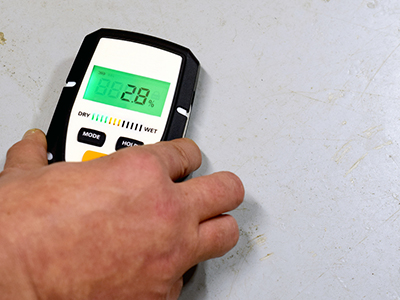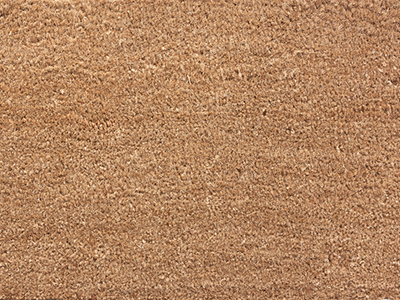 Mat Wells
With brand new flooring throughout your household, the last think you want is for someone to trapes external debris all over the house.
In order to avoid situations such as this we can provide matwells to any necessary area. With a wide variety of choices and colours you are sure to be able to match your matwell with whatever flooring is in your property.
Thresholds
Here at JC Flooring, we believe the little things make a big difference when it comes to putting the final touches to any job. We can provide various types of thresholds for all types of flooring, such as: cover plates between doorways, scotia to a perimeter, gripper bars for carpets and many more; all of which can be sprayed and matched to the exact colour of your flooring!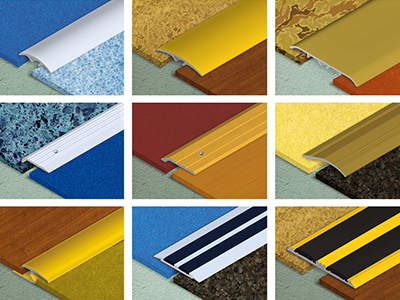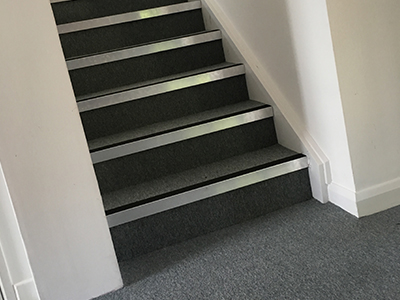 Nosings
Stair nosing, especially in commercial and industrial settings, are typically fitted with a non-slip surface to increase traction and prevent injury. With safety being the primary reason for installation of nosings they can also present a nice finish to any stair as they can come in multiple colours and arrangements to ensure that no stair will be left without one. We have a specialist team of operatives who can measure and recommend the necessary nosings for any stair following a quick and easy inspection.